Golden Eagle Dinner - Dothan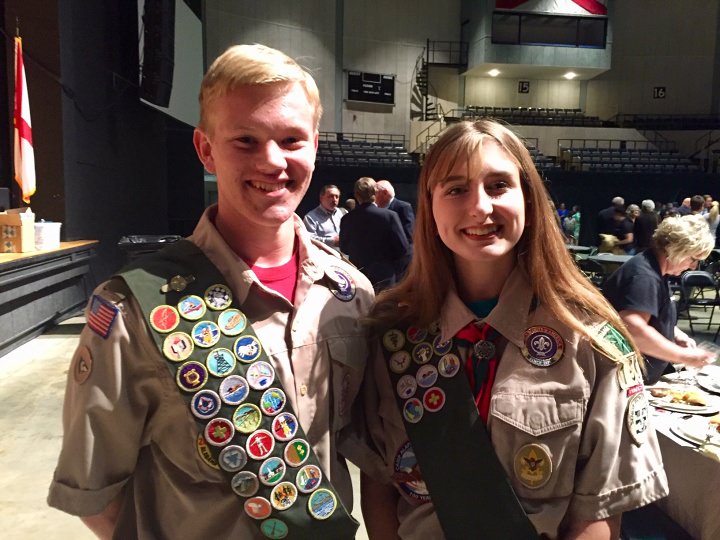 A GREAT EVENING FOR SCOUTING HELD - September 2019
The Dothan Golden Eagle Dinner held last night was a wonderful celebration of Scouting and our honoree,?Governor Kay Ivey.
We would like to thank Governor Ivey for serving as our honoree and spending time with us in the midst of her demanding travel schedule and recent health announcement. Her remarks were both uplifting and inspiring as she encouraged our Scouts to continue their journey towards future achievement.
Under the leadership of Dinner Chair Davis Malone, Steering Committee Chair Jeff Coleman, Planning Chair Mike Schmitz, plus Dinner Coordinators Arthur Gardner and Diane Hassan, we had a record attendance, and had already exceeded our original pledge goal of $100,000 going into the dinner. So, we set a new goal of reaching $125,000 by the end of the dinner and we are pleased to announce that we are at $125,725! That's 126% of our original goal. Congratulations!
We would like to thank all the committee members, sponsors, table hosts and Scout troops, plus Ketchem's Catering and the Dothan Civic Center staff who help make this a delightful and meaningful evening.
Our Scouts showcased the Scouting spirit well with their outstanding service and cheerfulness during the dinner. Thank you to Troop 38, Troop 106 and Troop 150.
Eagle Scout Stryker led the way as our Master of Ceremonies and captured the audience imagination with his Eagle Scout service project presentation.
Star Scout Aidan's personally written invocation reminded us of a Scout's duty to God and Country.
First Class Scout Abby's testimonial on why she chose to become a member of Scouts BSA helped everyone to better understand why the Boy Scouts of America has expanded all programs to meet the needs and interests of today's families.
Photos of the event will be available soon on Governor Ivey's website at: governoriveyphotos.com
If you missed it our just want to see it again, here is a link to the Troop 150 Video https://www.dropbox.com/s/lym9ctgxwxbz9i3/BSA%20Final%20Edit.mov?dl=0. Special thanks to BFC Management, the Cobb Foundation and Serquest for producing video.
Click here for the Dinner Program
THE ANNUAL DINNER
The annual dinner supports Scouting in the Wiregrass and honors those who give 'Scout like service'. We are delighted to announce our 2019 honoree: GOVERNOR KAY IVEY
Thursday, September 19, 2019
6:00pm Gov. Ivey VIP Reception (by invitation, see sponsor levels)
6:30pm Dinner
Dothan Civic Center
Table Sponsorships:
$10,000 Platinum Table Sponsor – Table of 8 with premier location. 4 tickets to the Gov. Ivey VIP Reception. Special recognition.
$5,000 Gold Table Sponsor - Table of 8 with premier location. 2 tickets to the Gov. Ivey VIP Reception. Special recognition.
$2,500 Silver Table Sponsor - Table of 8 with preferred location. Special recognition.
$1,000 Bronze Table Sponsor - Table of 8 with favored location. Special recognition.
General Admission:
Please join us in supporting Scouting and celetrating our honoree. There are no tickets to purchase, however, reservations are required and a $100+ donation is recommended. Seating is liminted, so please make your reservations today.
For more information, please call the Boy Scouts Service Center at 334.793.7882 or email Executive Director Jerry.Freyberg@Scouting.org.
For a copy of the dinner invitation, click here.
To sponsor a table, make a reservation, or a donation complete the form below or give us a call at 334.793.7882